Florys Online
These beautiful, bespoke-designed
Solar Light Fence Hangers
from
Florys Online
conveniently hook over your fence or trellis, allowing lighting within your garden all year round, without the inconvenience of electrical cabling and DIY.
They come fully powder-coated, not only to give this bold colour but also for great defence against our British weather! The bright white light will automatically turn on and off at dusk and dawn ...
Whether you're looking to enhance the look and feel of your garden, patio, balcony or driveway, these innovative hanging solar lights are sure to deliver!
"We're aware our customers often have to call upon a relative to fix up garden décor for them", says Jess Flory, founder, "and so it's been a top priority for us to design solar lights that can be easily installed".
The lights are ideal for renters, or those seeking a convenient lighting solution for their outdoor space, as they can be easily removed or relocated if desired.
Powered by solar energy, these garden lights require no wires or electricity. They collect energy from the sun during the day and use it to power the LED lights at night, providing you with up to 8 hours of warm, ambient light.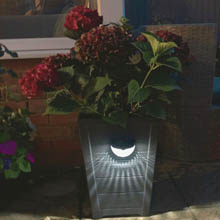 Florys Online Solar Lights are made with high-quality materials, ensuring they are durable and long-lasting. They are also weather-resistant, making them perfect for use all year round, regardless of the weather conditions.
Dimensions: Long arm 6cm, Short arm 5.5cm, Depth 5.5 cm.
Price: £24.99.
Note: The charging time and working time of the solar light varies with sunlight intensity.
In winter, solar light receives less energy from sunlight, so it is normal to have a lower brightness and shorter working time at night.
---
Look what we found!
---
Industville



Whether you're hoping to create a biophilic-inspired kitchen, tap into the comforting nostalgic trend for your lounge or plan to design the perfect spa-like bathroom, Industville's latest designs sit perfectly with all the very latest home interior trends. Like this beautiful, 12 inch, handcrafted Wire Cage Pendant Light. Available in pewter and brass finishes, the globe-shaped shade is perfect for dispersing soft yet bright illumination, making it ideal for creating task or mood lighting, depending on where it is placed in the home. Price: £99.00.
Link to website
Stockist details: 020 7971 7871 or see website
Image credit: Industville
---
Besselink & Jones



Curvature has made a comeback within interiors, satisfying our desire for a happy and comforting life. This cocooning feeling can come from the soft, round edges of a piece of furniture or the meandering of an art feature - no matter what room of the house, this warming trend is one to keep up with. Besselink & Jones tap into this curved trend with their range of luxurious lighting features, including this glorious Carved Wooden Urn with Swan Handles (T3-002). Shade sold separatel). Height 21.5"/54.5cm; base 7.5"/19cm. Price: £2,025.00.
Link to website
Stockist details: 020 7584 0343 or see website
Image credit: Besselink & Jones
---
Tom Raffield



Rooted in Scandinavian serenity, the Kera Lighting Range, from Tom Raffield, contrasts clean, sculptural lines with raw, natural materials that intrigue your sense of touch. Exuding calm, the Enka Pendant celebrates the relationship between two traditional crafts. Working in harmony, a steam-bent arch of sustainably sourced ash wood provides an aura for the dome-shaped, hand-glazed earthenware lampshade. Secured with luxurious brass flourishes, it's perfectly balanced to set a serene scene with soft, ambient downlighting. Price: £295.00.
Link to website
Stockist details: 01326 722725 or see website
Image credit: Tom Raffield
---
Loomlight



Need to transform that Man Cave space into an all-singing, all-dancing space that keeps on giving? Whether it's a garage to store bikes and cars or a home bar, cinema room or games room, one thing's for certain ...you'll need some good lighting! The 40cm Green Enamel Drum Factory Light is from the Thorlux Heritage range. The design was used for lighting factories, from the 1930s through to more recent times. The original lamps are hard to come by today, but you're able to buy them new through Loomlight, who work with Thorlux to continue the supply of these timeless light fixtures. Price: £300.00.
Link to website
Stockist details: 07950 942101 or see website
Image credit: Loomlight
---
Micucci Interiors



Micucci Interiors have introduced a very exciting addition to their collection - Cordless Portable Lighting, that you can use outside, move around the house or even take with you to parks or beaches! It includes this Lotus cordless portable table lamp in glazed fine porcelain from the Firefly Collection, designed by Robert Schnyder for the iconic Spanish brand Lladró. In translucent matte white porcelain, it's composed of glazed porcelain fragments decorated in a combination of different colours varnishes, including White, Coral, Green and Blue, and Gold and Red Coral. Price: from £320 - £360.00.
Link to website
Stockist details: +44 (0)203 0265 930 or see website
Image credit: Micucci Interiors
---