The Original Bed Co.
Need to give a lift to a neutral bed frame? Bring bold fabric into your room, suggests
The Original Bed Co.
Add a pop of colour and texture and make it stand out, thus creating an eye-catching focal point.
Designs like these can transform the space - and mixing and matching patterns and textures can create an interesting and cohesive look that complements the overall colour scheme.
For more than twenty years, The Original Bed Company has been manufacturing brass and iron bedsteads - from classics to innovative contemporary designs. The company's bed frames are made using traditional manufacturing methods by skilled craftsmen who have honed their skills over many decades.
Nancy Iron Bed Frame (above)
Prices/sizes
Single (3'0") £469
Small Double (4'0") £519
Double (4'6") £519
King (5'0") £569
Super King (6'0") £619
Paris Iron Bed Frame
(right)
Prices/sizes
Single (3'0") £349
Small Double (4'0") £399
Double (4'6") £399
King (5'0") £449
Super King (6'0") £499
The firm's range of brass bedsteads, iron beds and bedsteads, wood bedsteads and upholstered beds are lovingly handcrafted in their workshops. Many are available with under-bed storage solutions. The range also includes elegant four poster beds and models with luxurious upholstered panels.
The company also offers a range of low-end beds which are very popular for smaller rooms, as they aren't as imposing as traditional, high foot end bedsteads.
Being a manufacturer, they are able to customise beds for the perfect bedroom. Their colour matching service allows customers to get a bed to suit their style preference and décor. Customisations can take up to eight weeks; however, they do have many of their beds in stock, available for immediate delivery.

Glenholm Iron Bed Frame (right)
Prices/sizes
Single (3'0") £579
Small Double (4'0") £629
Double (4'6") £629
King (5'0") £679
Super King (6'0") £729
The Original Bed Company has two bed shops in the UK, one in Central London and one in Northamptonshire, where they keep a selection of their products for customers to gauge their quality and buy bed frames for home delivery.
In London, their showroom is on Kings Road, which is known for its interiors shops and is the home of renowned London-based bed companies.
---
Look what we found!
---
French Bedroom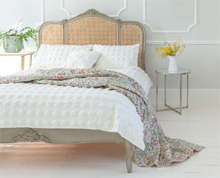 French Bedroom's collections of French furniture, contemporary lighting and quirky accessories are for those who want a bit of sassy French style in their bedroom. Born out of a fascination with French designs, textures, craftsmanship, heritage and history, the collections are fun and feminine. Tulips, primroses and lily of the valley skip over this delightful cotton bedspread creating an all-over small scale pattern reminiscent of 1970s summer dresses. Machine washable at 30 degrees. Price: £150.00.
Link to website
Stockist details: 01444 415430 or see website
Image credit: French Bedroom
---
Make My Blinds



When refreshing your bedroom for the summer, the right window treatments can make all the difference. Not only can they keep your room cool and dark for a good night's sleep; they can also enhance the overall aesthetic of your space. These elegant Stitchwork curtains from Make My Blinds are made from a beautiful, plain textured fabric. The light grey shade is a staple for any room in the home to bring a wholesome, inviting feel. The understated tone compliments neutral walls and natural wood elements perfectly. Customers can choose from a variety of linings to suit any room. Price: £45.99.
Link to website
Stockist details: 0117 205 0201 or see website
Image credit: Make My Blinds
---
Cox & Cox



A shining light in the rattan revival, the Mia range from Cox & Cox features beautiful, honey-toned wood, with textural woven inlays to the drawer and door fronts, for a light and airy bedroom furniture range with a nod to mid-century style. This Mia Bedside Table has two drawers with rattan covered fronts for a textural look which will play to changes in light; and matte gold hardware adds a luxe finish! A lip around the top of the table gives it a tray-like edge and prevents items sliding down the back. Price: £395.00.
Link to website
Stockist details: 0330 333 2123 or see website
Image credit: Cox & Cox
---
The Fine Cotton Company



These Lisbon Cotton Herringbone blankets and throws are available from The Fine Cotton Company in a wide selection of colours, sizes and hem finishes, to coordinate with any room. This new collection can create a luxurious layered look on beds in luxury master bedrooms and guest rooms, with a range of sizes from standard to extra large. The throws are finished with a blanket stitch edge or a turned, stitched hem. The products are 100% cotton (washable at 30 degrees or professional dry clean only). Price: £90.00.
Link to website
Stockist details: 03456 029050 or see website
Image credit: The Fine Cotton Company
---
Little Snoozes



The Wood Original Low Loft Bed, from Little Snoozes, is much more than a beautiful piece of children's bedroom furniture: it's a multi-tasking masterpiece that saves floor space while serving as a secret den, a hideout and a luxury retreat where little ones can learn and play. Handmade in solid oak, it features a robust framework, integrated bed guards and a ladder for quick and easy access. It converts easily into a standard single bed, day bed or bunk bed with an Oliver Furniture conversion kit. The Wood Original Mattress is a perfect fit. Price: £1,479.00.
Link to website
Stockist details: 0203 488 4942 or see website
Image credit: Little Snoozes
---