Triton Showers
2023 is going to be a big year for bathroom design, as more people look to create a sanctuary in their home.
Showers are anticipated to play a key role here, with the Pinterest Predicts 2023 report highlighting a growing preference for this water-efficient solution over baths - backed by Pinterest searches for shower routine aesthetics (+460%) and amazing shower walk-ins (+395%).
This is leading to an increased focus on creating a show-stopping showering space, no matter the theme. Here, Ashley Cooper, marketing director at Triton Showers, outlines the top bathroom trends to incorporate into your home this year: "While there are evergreen trends that will continue to evolve, we're already starting to see many new schemes gain popularity.
"The latest trends take a fun and bold outlook on bathroom design, incorporating statement colours, patterns and finishes. From textured neutrals to sweeping curves, the looks can all be applied to large bathroom and petite ensuites alike.
"Bathrooms have long been associated with slim profiles and hard angles", says Ashley. "However, 2023 welcomes a new era of curves that can be introduced to create an aesthetically pleasing space with a sense of flow.
"We often see curves in the wider home, incorporated through archways, furniture and accessories. Using curves in this way can add visual rhythm, offering a softer feel to a space, and removing harsh lines and angular corners. It's a practical way to create a warm and inviting space, perfect for bathroom spaces, which are naturally a place for relaxation.
"Curvaceous walls add a sense of fluidity to the bathroom, and can be used in a variety of ways, such as adding a curved wall to zone a walk-in shower or enclosure.
"By doing so, you can create a doorless shower room, which is one of the most lusted after bathroom features of the year - demonstrated by a 110% increase in Pinterest searches. Warm, rich earth tones complement curved walls well, especially when paired with lighter shower panels or tiles, as they help soften more cooling colours such as brilliant white and blue.
"Curves can also be echoed around the bathroom through tiling, taps, baths and sinks. You can even opt for a shower with a curved riser rail and shower heads, such as Triton Showers' Push Button Diverter mixer shower in brushed brass.
"If you want to introduce the trend in a more subtle way, consider styling with accessories. Curved mirrors, round wall lights and oval soap dishes are the perfect additions to accent your space without requiring a complete re-design.
"Avid interior design fanatics will not be surprised to see that pattern combinations will be big in 2023, as maximalism creeps into every room in the home, including the bathroom.
"This trend is usually incorporated into rooms such as the living room and bedroom through contrasting wallpapers and soft furnishings - and the same can be applied in the bathroom!
"Mixing and matching patterns can make a bold and beautiful statement, so be playful with your choice of wallpapers and tiles. Embodying joy and personality is at the heart of this trend. Start by finding the perfect floral wallpaper that will bring a smile to your face every time you enter the room, and pair it with accessories and tiles to tie the look together.
"Style with fun trinkets, quirky lighting and detailed towels. You can choose more neutral flooring or go for something a bit more out there depending on how brave you feel. The trick is to treat your bathroom like a jewellery box and fill it with gems that bring you joy. Step out of your comfort zone and make bold choices; it's all about having fun and bringing in colour combinations you may never have previously considered.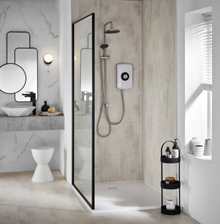 "Finish the look with simple silver or chrome brassware, along with a neutral shower that will let the wider scheme do the talking. To add more personality and create a more homely look, add personal touches, such as plates and even framed pictures, to the walls - this will help bring the look together.
"The minimalist bathroom is, arguably, one of the most popular trends of recent years, and it is set to continue its domination in 2023.
"A favourite due to their ability to evoke calmness and tranquillity, minimalist bathrooms provide that spa-at-home look. Avoid picking the whitest whites, which can often make a space look clinical. Instead, opt for off-whites, surfaces with texture and finishes that mimic natural stone materials such as marble, concrete and sandstone. The key is to keep the core colours neutral and play around with finishes and shapes.
"Black fixtures and fittings can help tie the look together, whilst adding contrast. You can also introduce black into the scheme through a rimmed glass or crittall-style shower screen, mirrors, storage solutions and wall lights. A black electric shower unit adds a bold feature, combining contemporary looks with an efficient way to heat and use water - saving you money.
"If you want a bathroom that instantly puts a smile on your face, then injecting bold colours into your design is guaranteed to make you feel cheery no matter the time of day. The scheme is perfect for a family bathroom and will make shower time fun for all.
"Bathrooms in 2023 will not be confined to clinical white tiles, instead you'll see designs that boast confidence, decorated in vibrant tones. Primary colours are back, and here to brighten your day.
"Funky tile layouts, pops of colour, geometric towels and rainbow accessories create a technicolour bathroom dream. If you're feeling really bold, introduce a door lip in a bright hue - adding this wave design mural will test the bathroom boundaries in the best of ways.
"This scheme isn't for the faint-hearted. If you're feeling cautious, start with a clean base with white walls and a matte white shower, then go wild with accessories, which can easily be refreshed should you wish".
For further information about electric and mixer showers, visit www.tritonshowers.co.uk. Here you can access Triton's handy product selector guide, which talks you through the basics of showering, ensuring you select the best solution for you and your home.
Triton has also created an online water and energy calculator, providing useful hints and tips around consumption - specifically tailored to your household usage.
Those looking to reduce their bills, and carbon footprint can use the calculator to discover the small changes they can make to reduce usage and help protect the planet in the process.
---